*please bear in mind, this will be another long post, get a cup of Ipoh old town coffee, switch on your music and enjoy reading my blog ya. hehe :) *
28-1-2007 (Sunday)
Last Sunday, my family and I were staying in the house for the whole day except went out for lunch and dinner. It was great, and I get the chance to spend some quality times with my family. In the middle of no way, there was some 'god knows' Buddhism Parade going on right in front of my apartment. With my 'kaypoh' attitude, my mom and I went and have a look, and I able to take some photos too while waiting for Mcd delivery.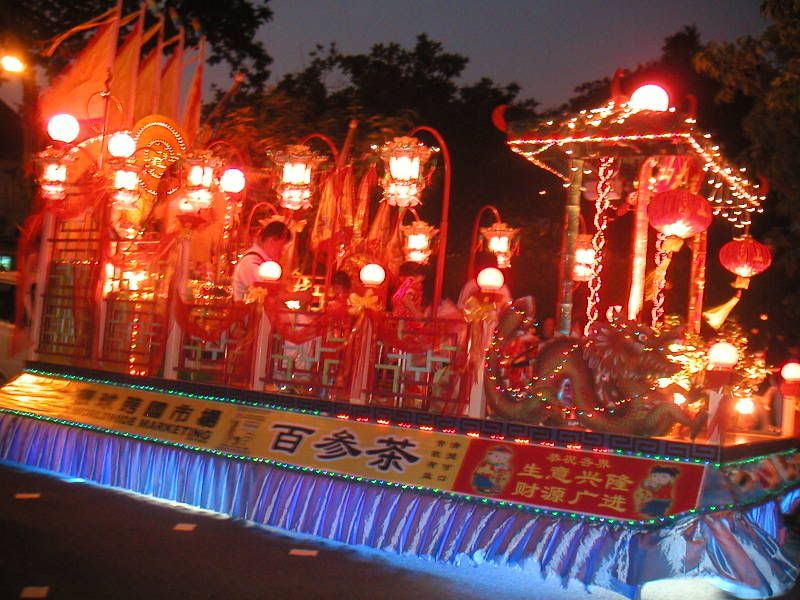 One of the big flower car, nice or not?

Another one...

People are carrying it, so the god no need to walk, so nice... :)
My double cheeseburger, wanna have a bite *grin*...?
29-1-2007 (Monday)
I woke up in the morning at 11am, get ready for an outing, sent my shoes to repair, having western food with my mom as a lunch, and went to have a hair cut. My friend, the barber, named Benny *not Barney*, he gave me a new hair style, called 'Victoria hair style' *OMG I looked like Victoria Beckham* :p. The hair effect is not as good as Victoria Beckham because my hair is not long enough *deng*.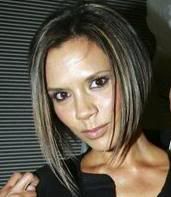 Victoria Beckham Hair Style (front view)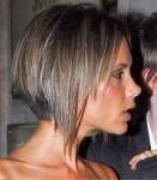 Victoria Beckham Hair style (side View)
After a nice hair cut, my mummy sent me to have my very first facial treatment, the whole package included the hair cut will be RM 118. Since my face has too many of black head, so it took some times for the beautician to squeeze out the black head *ouch*, darn painful. I felt like being punched by her, and I nearly cry *sob sob*. Afterward, I have a nice massage and a very cooling, refreshing mask. Mission accomplished after 2 hours. Now, no more aches, but have a beautiful and smooth face. Hehe…
After that, my mom and I went for a shopping section at Gurney Plaza from 5.30pm until 10pm. Hehe, I bought a pair of sport shoes for RM188 and 2 bags for RM50. My mom successfully gets herself a new pair of sport shoes for RM128 and a new Bonia Spec for RM500. At night, we went for a dinner at Kim Gary Restaurant in Gurney Plaza Penang, no regret; I have a lovely meal with my mummy.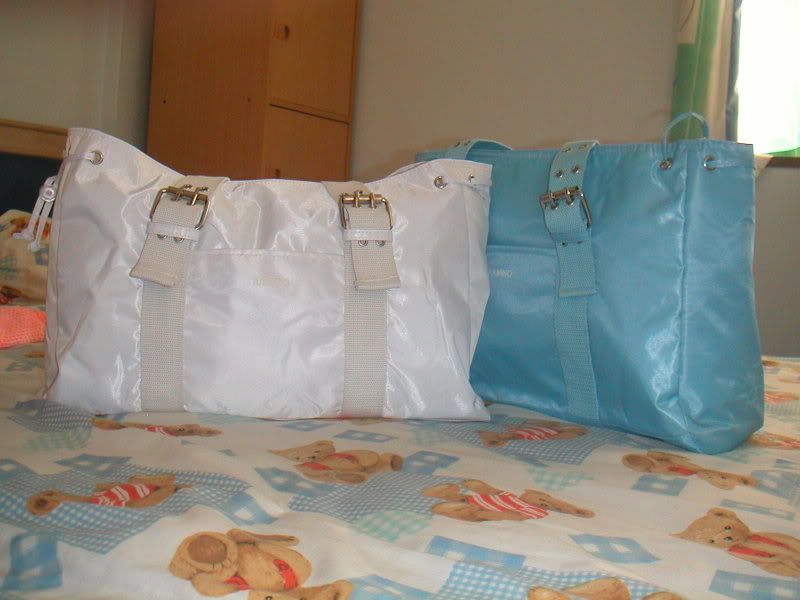 White and light blue bags, two for RM50, so cheap... :D
My new sport shoes, badminton here i come... :p
My mom's sport shoes, pinkish, so lady like... :)
30-1-2007 (Tuesday)
Hooray, my bf came to Penang today. He dropped by at Prai industrial area and searched for his company, named Winchem (M) Sdn.Bhd. He needs to go for his first industrial training in this coming Thursday *let's pray for him*. He reached Penang safely at 2.05pm, we went for his favourite chicken rice as our lunch, we watched 3.45pm movie, Epic movie *idiot movie*, and we ate Baskin Robbin ice cream together gether. Tomorrow is the last day to use the 'buy 1 free 1' coupon already *sob sob*.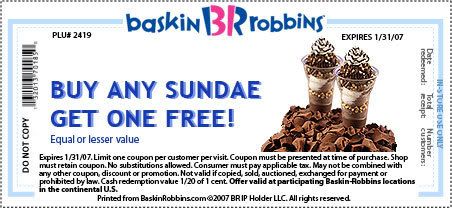 The Baskin Robbin 'buy 1 free 1' coupon in United State, not in Malaysia...
My mom cooked tonight, so we were having dinner at home with my mom, has fish, meat, vegetable, ABC soup and my bf is bloated, hehe :p. After dinner, we have desert section, eating ice cream again, Mcd flurry Oreo, Orange Sorbet and La Cremeria from Nestle. Besides that, we were having kai keok, keoy teow soup and tau fu fa for supper. I think I really gained a lot of weight after I came back from Sungai Petani. Hehe…
In the mean while, my bf helped me to fix the new banner for my blog. Please feel free to leave your comment ok?

My new banner, do you like it?

Love ya *muakz muakz muakz*